Was There An Explosion In
The Great Pyramid In Antiquity?
Stephen S. Mehler

---
With recent discoveries of "new" spaces or chambers behind the so-called "Gantenbrink's Door" in the Southern Shaft and another "door' in the Northern
Shaft of the Queen's Chamber in the Great Pyramid, interest in the ancient monument continues to capture the imagination of many people in the world. Even Dr. Zahi Hawass, Chairman of the Supreme Council of Antiquities of Egypt, has remarked that the Great Pyramid has not yet yielded all of its secrets by any means.
In fact, the inner chambers of the Great Pyramid exhibit many anomalous features, which have never been adequately addressed or discussed by Egyptologists such as Hawass. In his landmark book, The Giza Power Plant (Bear & Co., 1998), engineer Chris Dunn made the suggestion there is evidence that the Great Pyramid may have experienced a cataclysmic event, an explosion some time in its distant past which ended its role as an active power plant, a machine, which is what Dunn proposes was its primary function in his book. I further advanced Dunn's hypothesis of an explosion in the pyramid in my book, The Land of Osiris (Adventures Unlimited Press, 2001) due to investigations I made on site in 1997, 1998 and 1999.
My recent trip to Egypt as a presenter at the "Mysteries of The Spirit" Conference that was held at the Mena House near the Giza Plateau in January 2003 enabled me to further pursue the hypothesis and gather even more evidence, not only in the Great Pyramid, but at other sites as well.
There are several features in the inner chambers of the Great Pyramid that cannot be explained by the structure merely being utilized as a tomb for a king, whether an actual or symbolic tomb. As mentioned in both my and Chris's book, the King's Chamber presents several anomalies. There are cracks in the granite beams on the southeastern ceiling of the room. I first noticed these cracks in 1992. Egyptologists have explained the cracks away as being the result of an earthquake, but there is no evidence of seismic damage in either the Descending Passage or Subterranean Chamber, which would have been closer to the epicenter. The SCA (Supreme Council of Antiquities) attempted to repair these cracks in 1998 but they are still evident today.
The walls of the King's Chamber can be seen separating from the floor and seem to bulge out, suggesting that an explosion or powerful energy pulse acted upon them. Chris Dunn is also the only investigator to remark that the stone box in the King's Chamber (erroneously referred to as a "sarcophagus") is today a chocolate brown color, not the original rose color of the Aswan granite it is from. The color change could be due to tremendous heat, which could indicate it was chemically altered by an explosion or fire in the chamber in antiquity. If a sample of the box could be obtained, it could be tested to determine if this was so.
There are other anomalies to be found in the Grand Gallery. First discovered by Chris Dunn in May of 1999 when we were in Egypt together, the upper wall of the Grand Gallery, near the entrance into the King's Chamber, is made of granite, not limestone. The entire wall shows deep dark stains that may be the result of being exposed to tremendous heat, perhaps from an explosion. Along the side ramps of the gallery are several rectangular holes or sockets, evenly spaced throughout the entire distance of the ramps. Some Egyptologists, such as Mark Lehner and Zahi Hawass, have speculated that statues of Khufu, the supposed builder of the Great Pyramid, were situated in these holes, but no evidence of any statues has ever been found in the pyramid. Chris Dunn has speculated that some sort of devices, perhaps Helmholtz Resonators, may have been inserted in these slots to amplify the energy produced in the pyramid. There is evidence that these resonators, or some other devices, may have exploded during the proposed cataclysmic event that occurred in the pyramid as there are burn or scorch marks on the ceiling of the Grand Gallery directly above and corresponding to the slots on the side ramps. This also may be why no traces of the resonators have also ever been found.
In January of 2003, I discussed the possibility of an accident/explosion having occurred in the Great Pyramid in antiquity with my Egyptian teacher, indigenous wisdom keeper Abd'El Hakim Awyan. While not specifically mentioning an explosion in the pyramid, Hakim stated that his tradition does record (orally) that a cataclysmic event occurred thousands of years ago on a global scale, an event that may have been sparked by a cometary flyby, a meteor strike or some other celestial/geosynchronous activity. Although Hakim does not often deal with exact dates, I believe this event may have occurred around 11,500 years ago as stated by Barbara Hand Clow in her book, Catastrophobia (Bear & Co., 2001).
In my book, The Land of Osiris, I mentioned a series of sites in prehistoric Egypt, from Dahshur in the south to Abu Roash in the north, and including Sakkara and Giza. These sites were all interconnected and linked by stone masonry pyramids and temples, and were all erected over 10,000 years ago according to the indigenous wisdom keepers of Egypt. I mention that the site of Abu Roash, some five to eight miles north of Giza, once had a pyramid, which is all in ruins today. Egyptologists state that the pyramid was unfinished and therefore is insignificant, but my research indicated otherwise. Where I once thought the pyramid had been attacked and quarried by Arabs in the last few hundred years seeking stone to rebuild mosques damaged by earthquakes, I now speculate that the pyramid may have been destroyed in the same aforementioned cataclysmic event. Abd'El Hakim now also believes that this was the case.
Recent investigations at the Bent Pyramid at Dahshur also revealed some possible evidence to support this explosion hypothesis. The northwest corner of the pyramid, also believed by Egyptologists to have been recently quarried, appears to have been blown away as if from an explosion. The pyramid shows uneven loss of stone, inconsistent with systematic quarrying. Most of the original casing stones are still intact, yet this one side seems to be blown off.
A cataclysmic event in antiquity, proposed by many authors as having occurred around 11,500 years ago, whether celestial as a comet or meteor strike, planetary near miss, or even an ancient global war as suggested by David Hatcher Childress and Zecharia Sitchin, may have affected all the stone masonry pyramids on the gridline that I have labeled The Land of Osiris, approximately 25 square miles from Dahshur to Abu Roash. The evidence presented that can be found in the Great Pyramid does indicate that the inner chambers of the monument were once subjected to great heat and/or an explosion which caused the great 70 ton granite beams in the ceiling of the King's Chamber to crack. This evidence, obvious when carefully observed, cannot in any way be explained or accounted for by merely dismissing the monument as being a tomb for a king constructed 4500 years ago. There needs to be more independent holistic study by scientists and researchers of varied disciplines concerning these anomalies mentioned to determine, if possible, whether an explosion did indeed occur in the Great Pyramid in antiquity. There is enough evidence presently to bring into serious question the whole assumption of the pyramid being constructed as a tomb for a king in 2500 BC.
PHOTOS
1-Cracks in granite beams in ceiling of King's Chamber 1992.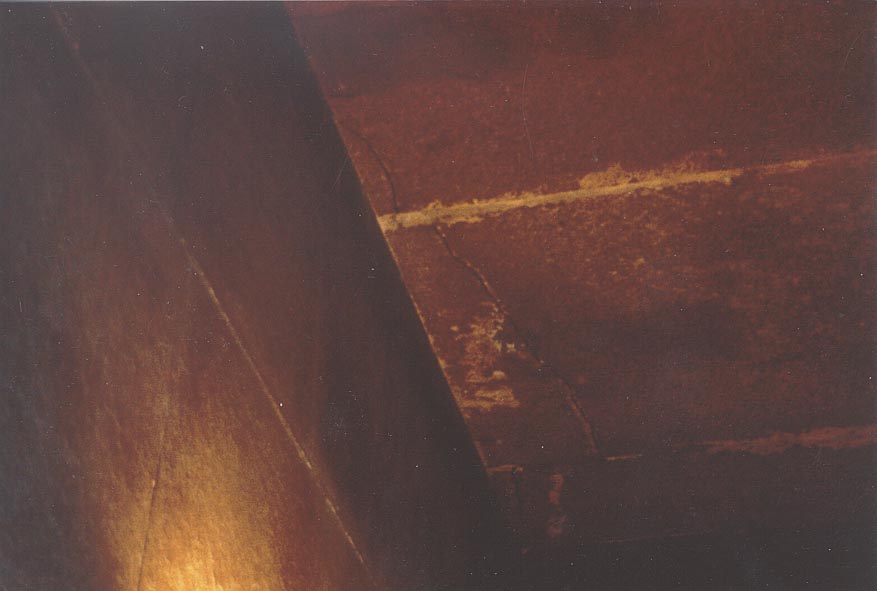 2-Cracks in granite beams in ceiling of King's Chamber 2003.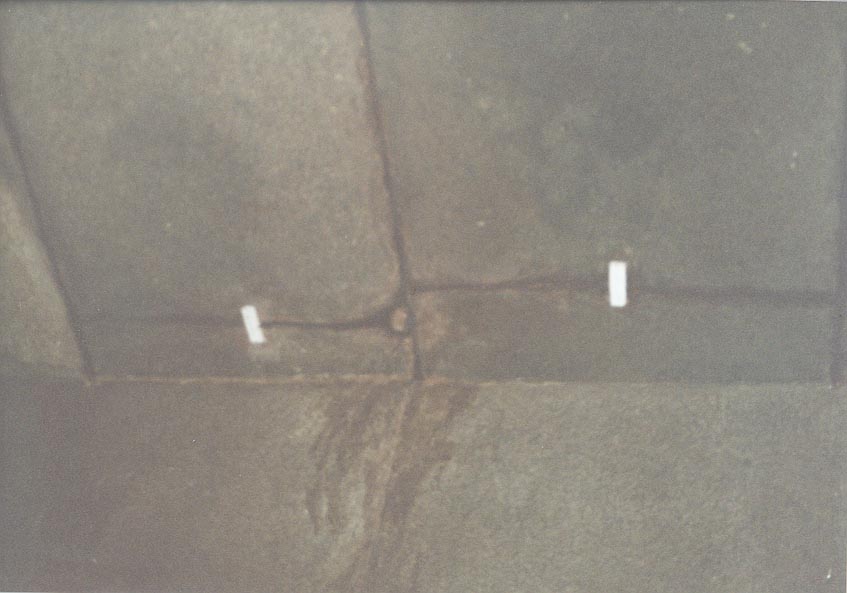 3-Upper Wall of Grand Gallery, made of granite, not limestone. Wall shows charring
and is blackened, not original rose color of granite. 2003.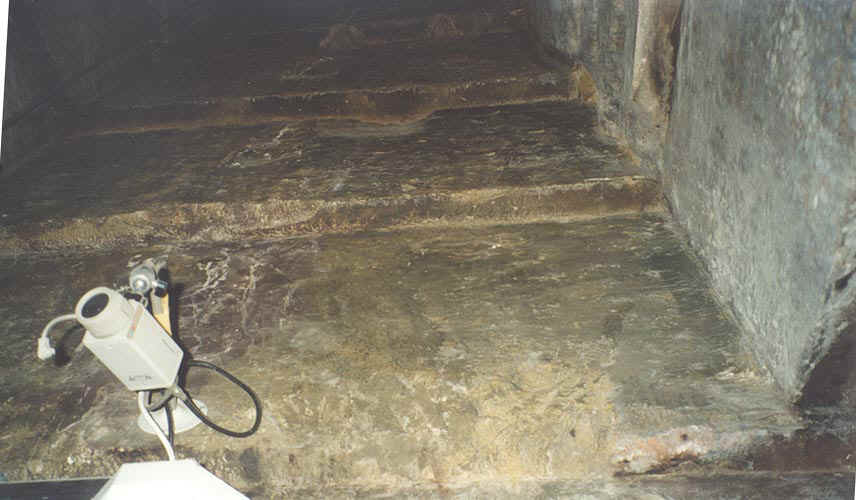 4-One of the rectangular slots in side ramps along walls of Grand Gallery. 2003.

5-Ceiling of Grand Gallery showing burn marks corresponding to slots on side ramps. 2003.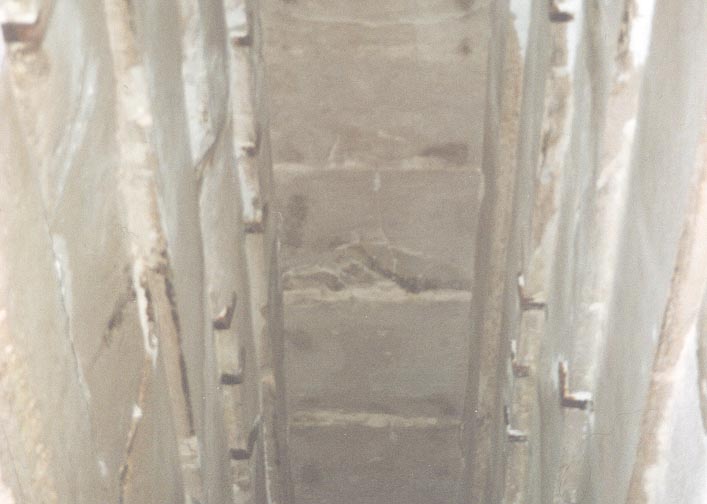 6-Abu Roash. All that remains of once intact pyramid. 1997

7-Dahshur. Northwest side of Bent Pyramid, which may have been blown off. 2003.