Most of the photos in this tour were taken from the out of print 4 volume set "Pyramidology" by Adam Rutherford (released between 1957- 1972). Adam Rutherford was one of the greatest Pyramidologists that ever lived. These pages may take some time to load but I think it is worth the wait. There are 40 photos on 6 pages.

Before we enter the interior of the Great Pyramid, let us look at some EXTERIOR views.



(1) Arial View of the Great Pyramid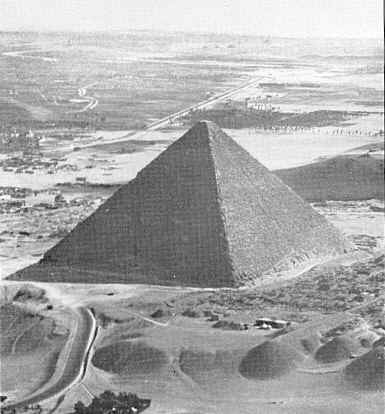 The Great Pyramid of Giza stands on the northern edge of the Giza Plateau, located about 10 miles west of Cairo. The Greeks listed the Great Pyramid of Giza as the first wonder of the world and it is the only one of the seven still remaining to this day.







(2) Northern Part of the EAST side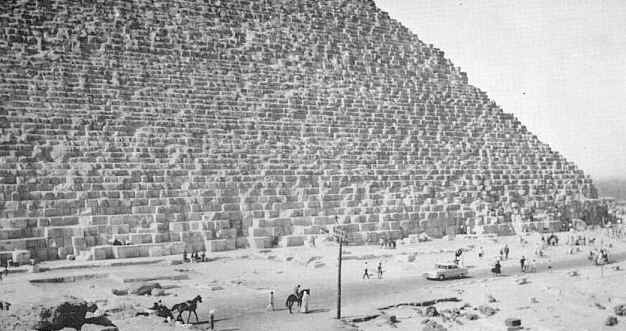 The Great Pyramid is composed of over 2 ½ million blocks of limestone which weigh from 2 to 70 tons each. Its base covers over 13 acres and its volume is around 90,000,000 cubic feet.




(3) Southern Part of the EAST side with other Giza pyramids in the background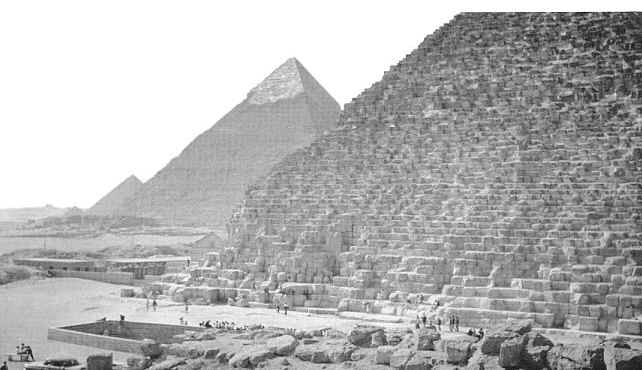 Next to the Great Pyramid stands 2 additional large pyramids. The Great Pyramid is thought, by traditional scholars, to have been erected around 2600 BC during the reign of Khufu (whom the Greeks called Cheops) of the 4th Egyptian Dynasty. The slightly smaller one is attributed to Cheop's son and successor, Kephren. The other, still smaller, is attributed to Kephren's successor, the grandson of Cheops, Mykerionos. Recent geological studies indicate that the Great Pyramid and the Sphinx may be at least 10,000 years older than traditional scholars have thought.




(4) North-East Corner. Adam Rutherford is seated on a camel.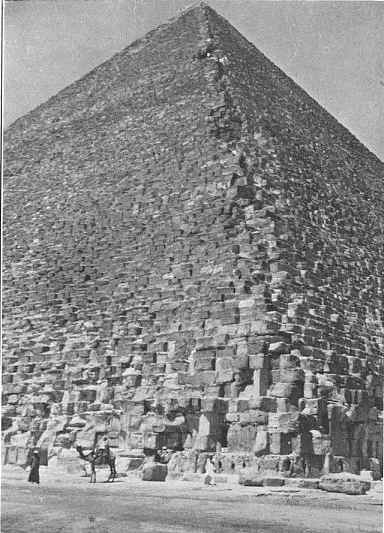 James Ferguson, in his great work, the History of Architecture, describes the Great Pyramid as "the most perfect and gigantic specimen of masonry that the world has yet seen. No one can possibly examine the interior of the Great Pyramid without being struck with astonishment at the wonderful mechanical skill displayed in its construction."




(5) Looking down from the top of the S.W. Corner.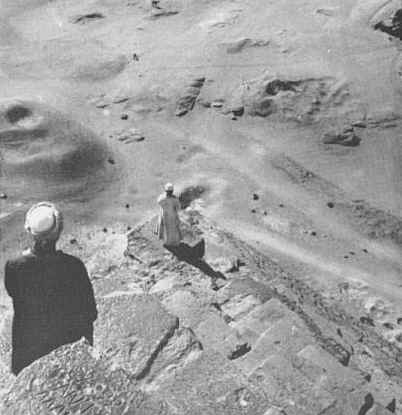 It is 454 feet high which is equivalent to a modern 48-story building. There are 203 courses or steps to its summit. Professor Greaves, astronomer, in his book, Pyramidographia says "The structure of it hath been the labour of an exquisite hand."




(6) Central part of the Summit (Top) of the Great Pyramid.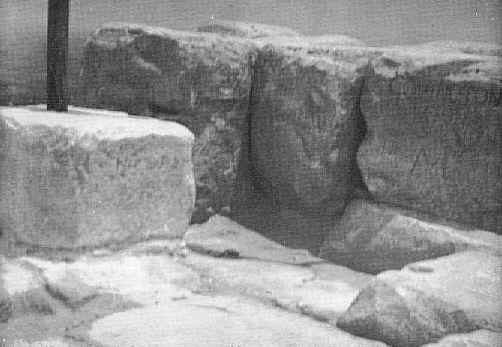 It appears that the Great Pyramid was never finished since the top is flat, and not pointed, as it should be. It has a truncated summit which is coarse and uneven and measures about 30 square feet. Most pyramids were crowned with a top-stone that completed their structure. This pyramid does not currently have one and it appears that it never did.




(7) Tourists and guides climbing the Great Pyramid in the early part of the 20th century.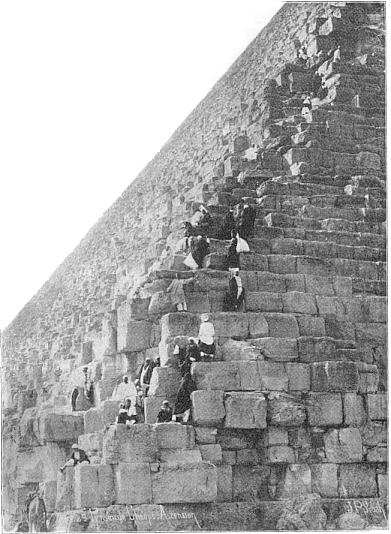 H.E. Licks, mathematician states: "So mighty is the Great Pyramid at Gizeh and so solidly is it constructed that it will undoubtedly remain standing long after all other buildings now on Earth have disappeared."